Start Reading with Bookshelf
Now you can read all your American Reading at Home titles right in your browser or on your devices! Specially designed for successful reading practice before a child can even read words, our books also foster mastery of the first 120 sight words.
Get 12 free ebooks just for creating an account!
Choose your platform and start reading!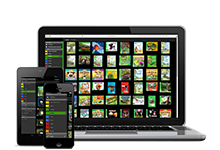 Web App
Any computer or device
using a modern browser.
Access your Library now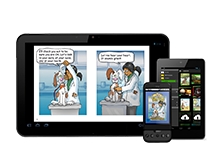 Android App
Any Android device
version 4.0.3 or later.
Google Play Store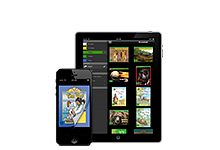 iOS App
iPhone, iPad & iPod Touch
with iOS 8.0 or later
Get the APP!
Bookshelf automatically keeps track of books you've purchased and automatically adds the eBooks to your library. You can now read your books wherever you go. eBooks are included for FREE with the purchase of most of our paperback books, or you can purchase just the eBooks. eBooks are for personal use only and are accessible on up to 5 devices.
Screenshots
Reviews
"It's well researched and engaging for kids." —Melissa Taylor, Parenting.com
"My 4-year-old (2Y Reader!) and I downloaded the app and busily started reviewing the books. Between last night and this morning, he has already (on his own) absconded with my iPad and read 20 + titles. This is an incredible resource!" —Dr. Emily Brown.
"The pictures! The pictures in these books are incredible!" -Elizabeth, Kickin' it in Kindergarten
"The online coaching tips helped me know exactly what to do at each color level." —Michelle L., mom of 2
"It's a great system to learn the first 120 sight words." —Steven E., dad of 2
"The whole experience brought me closer to my son." —Leslie S., mom of 3
"This app has quickly replaced the backpack of books we'd carry around for my daughter on long car rides. It's also the first thing we reach for at bedtime; she's only 3 but already knows how to open the app and find her favorite books!" —Chad, dad of 3
"As a stay-at-home mom and former Kindergarten and first-grade teacher, I have had the pleasure of discovering your books!" —Kimberly, mom of 1
Customer Stories
December, 2014
Vittoria: I love your program. I am from Italy and I have used your system since my child was 4. Ezra is now in 1st grade and ready for 2R. He reads hebrew and italian too. Your program is sure the best. I have been sharing the books that Ezra has overgrown with his school.
American Reading at Home: Oh wow, thank you so much for your wonderful feedback! If you don't mind, would you like to answer a couple questions since you've been such a long time customer with us? We are always trying to improve and would love to hear your thoughts: 1. How did you find us? 2. How did you know how to use the program? 3. How can we make the website more useful?
Vittoria: 1. I found the American Reading website some times ago while searching for reading methods in young children. My child was exposed to books since the day he was born and I always read to him but, as I mentioned in another message, I am from Italy and english is not my first language so I knew I needed help in giving my child a head start. I am a doctor and scientist and I know how improtant is a for a young child to be right on time as far as reading is concerned. I did try a lot of methods from "Your baby can read" to "preschool prep" to "leapfrog" but I have never been completely satisfied with any of them. "k5learning" is the one that I liked better but I needed something more.
2. Before starting using the books, I read almost everything in your website and when I tought I figured out how the method worked, I tested Ezra and I started buying the 2 yellow books. He loved them and he progressed very smoothly. At the time we started he already knew his alphabet and he was able to read simple phonics words (cat, mat, that, car, sun, etc.). He started kindergarten with 2 green and started 1st grade with 1 red.
3. The website is very well done. I dis not have any problem in navigating it and finding the information I needed since the very beginning. The athome part is very straightforward.
3a. I would say that having e-book for the more advanced level would be a good addition even though my child always preferred the paper version. I only used the e-books when travelling.
3b. Maybe expanding the video part on how to use the books at home would be helpfull for the parents.
3c. The program really works and my child always got very excited in changing the color/level. Maybe a certificate of achievement with the books or a medal or a trophy will add enthusiasm to the young kids.
Hope this helps; please feel free to contact me in the case you need further clarifications.
American Reading at Home: Thank you so very much for your kind words and feedback! We are so happy to see that our website helps facilitate the program and we are slowly expanding our electronic library so hopefully soon we'll have more eBooks available at higher levels via American Reading at Home. We do have higher levels available but those are collections we cater to schools via the main company branch.
I truly understand and appreciate your attitude towards early reading, especially since English is my third language and my mom raised me with an ocean of books :) It's so wonderful and I'm sure so rewarding to you as a parent to see your child really grow and succeed! I only know Ezra through your words but I'm very proud of him and all the work you've put into his love of reading!
Also wanted to note that I agree on the achievement rewards and we do have some available but as part of a bundle, not à la carte. I will pass your comments along and see if that's something we could add to the store for those only wishing to buy a cape, or a medal etc.