Start Reading with Bookshelf
Now you can read all your American Reading at Home titles right in your browser or on your devices! Specially designed for successful reading practice before a child can even read words, our books also foster mastery of the first 120 sight words.
Get 12 free ebooks just for creating an account!
Choose your platform and start reading!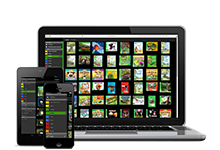 Web App
Any computer or device
using a modern browser.
Access your Library now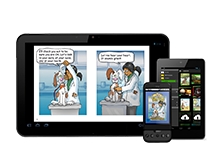 Android App
Any Android device
version 4.0.3 or later.
Google Play Store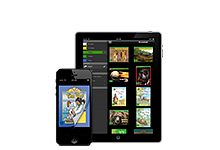 iOS App
iPhone, iPad & iPod Touch
with iOS 6.0 or later
Get the APP!
Bookshelf automatically keeps track of books you've purchased and automatically adds the eBooks to your library. You can now read your books wherever you go. eBooks are included for FREE with the purchase of our paperback books, or you can purchase just the eBooks.
Screenshots
Reviews
"It's well researched and engaging for kids." —Melissa Taylor, Parenting.com
"My 4-year-old (2Y Reader!) and I downloaded the app and busily started reviewing the books. Between last night and this morning, he has already (on his own) absconded with my iPad and read 20 + titles. This is an incredible resource!" —Dr. Emily Brown.
"The pictures! The pictures in these books are incredible!" -Elizabeth, Kickin' it in Kindergarten
"The online coaching tips helped me know exactly what to do at each color level." —Michelle L., mom of 2
"It's a great system to learn the first 120 sight words." —Steven E., dad of 2
"The whole experience brought me closer to my son." —Leslie S., mom of 3
"This app has quickly replaced the backpack of books we'd carry around for my daughter on long car rides. It's also the first thing we reach for at bedtime; she's only 3 but already knows how to open the app and find her favorite books!" —Chad, dad of 3
"As a stay-at-home mom and former Kindergarten and first-grade teacher, I have had the pleasure of discovering your books!" —Kimberly, mom of 1